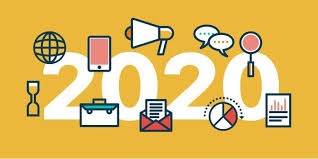 Social media is a powerful tool you can use to meet your 2020 marketing goals. It is highly-effective for generating sales if you know how to harness its potential. However, most businesses don't. We're going to go over how you can leverage social media to reach your 2020 marketing goals.

Know Your Target Audience
If you want your social media marketing efforts to pay off, you must know who your target audience is. How old are they? How much money do they make? What are they interested in? What social media platforms do they use?

Create Branding That Stays Consistent
While you will have to tweak the content you post, depending on what social media platform you are using, your overall branding needs to stay consistent. That means that whatever platforms your business is on, you need to use the same design, colors, and messaging across all of them.

Work With Social Media Influencers
"Influencers" are people on social media who have lots of followers and are listened to when they recommend something. The ROI for brands that use social media influencers to promote their products is over ten times higher than other types of marketing. There is an influencer for every budget, so as long as you align with one that has a similar audience to your target audience, you will benefit.

Run Contests & Promote Exclusive Offers
Contests and exclusive offers not only increase the number of followers you have, they also increase your sales. You can even create promotional hashtags that your followers use in their posts, for a chance to win, making them work for you, for free!

Show Some Personality
People are put off by a bland business image that is one-dimensional and all about business. To use social media to further your marketing goals, show some flair. When you show your brand's personality, make sure to show the aspects of it that fit with your brand, so there is alignment with what your customers and followers want to see.

When you take these steps, you will be well on your way to the successful use of social marketing to meet your 2020 marketing goals. Remember, how fun with it! Social media can be an incredibly rewarding marketing tactic, so make the best of it.